Love the Starbucks Sous Vide Egg Bites? Make your very own recipe at home! You're going to absolutely love these Cheesy Sous Vide Egg Bites. They're made with 3 basic ingredients and done in under 60 minutes.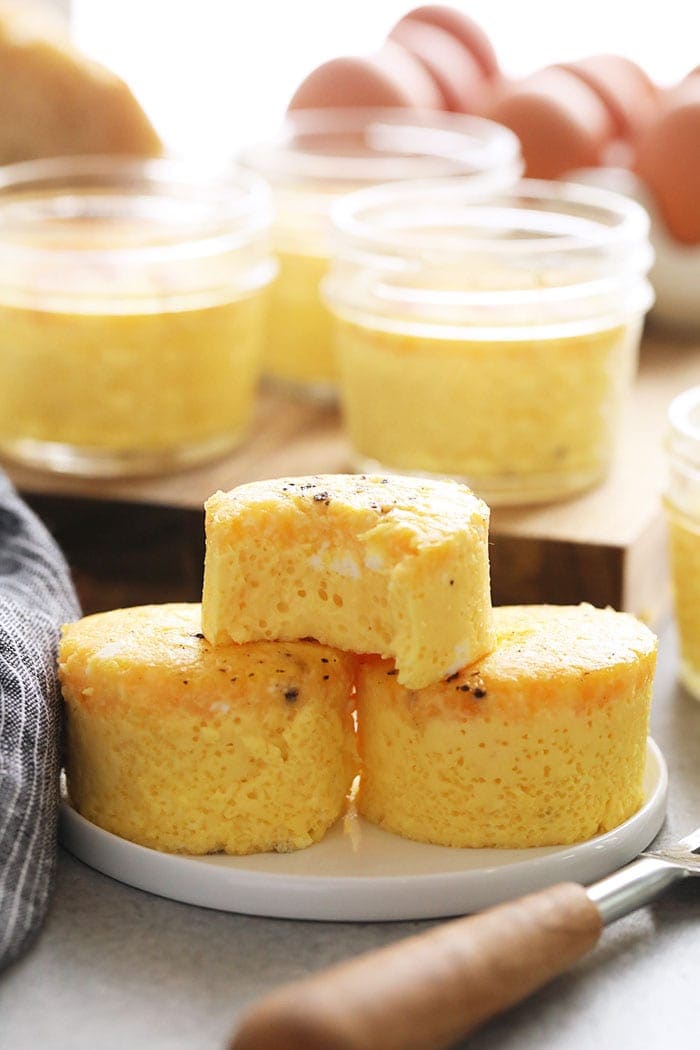 We're back with another super simple sous vide recipe. This time, we're ditching the meat and keeping things vegetarian with quick and easy sous vide eggs recipe.
I'm sure you've had the famous Starbucks Sous Vide Egg Bites. Well, guess what? You can actually make these in your own kitchen and in no time at all!
Sous vide cooking is a method of cooking where you use a regulated water bath to precisely cook food to a certain temperature. Want to cook a steak to medium-rare? Good news! If you sous vide the steak at 130ºF, the entire steak will come out medium rare, not just the middle. The great thing about the sous vide is that whatever you are trying to cook, will come out perfectly even.
ypically meats and other food such as eggs or vegetables are vacuum-sealed in a plastic bag with the air removed and then submerged into the water bath. In this recipe's case, we used a Mason Jar as the vessel, which works in the exact same way.
If you are looking for the perfect, reasonable sous vide. We HIGHLY recommend the Anova Culinary 800W. It's Smartphone-friendly and costs $99.
What Are Sous Vide Egg Bites?
Sous Vide Eggs are essentially like little egg soufflés made in your sous vide. If you've ever had any of our egg cups, they're similar to those, but airier and cooked absolutely perfectly even.
That's the beauty of the sous vide; whatever you are cooking is going to cook perfectly even. Let me explain…
When you cook egg bites in the oven in a muffin tin (like this baked eggs recipe) sometimes they can come out a little bit harder on the outside and more perfect in the middle. That's because whatever touches the muffin tin is going to get hotter faster, thus making the outside more well-done.
When you cook something in the sous vide, the entire thing is submerged in water, which is the same temperature throughout the entire pot, thus cooking whatever is being sous vide perfectly even throughout. Once you make this Sous Vide Eggs Bites recipe, you will totally get what I'm saying.
ARE SOUS VIDE EGGS HEALTHY?
Sous vide eggs are a great healthy breakfast option for those looking to add protein to their diet. This recipe for egg bites is also low carb, gluten-free, and both keto and paleo-friendly!
How to Make Sous Vide Egg Bites
STEP 1 – ASSEMBLE INGREDIENTS
What you'll need for this recipe is very simple and only requires 3 main ingredients.
large eggs
milk
shredded cheese
You'll also need some salt and pepper and if you like hot sauce for serving, we recommend that too! In addition to the ingredients for this recipe, you'll also need a large stockpot and 6-9 4 oz. Mason Jars.
Can I use just egg whites instead of a full egg?
Yes, you can use just egg whites! However, you may want to increase the number of egg whites you use so that each jar fills up about 3/4 of the way full.
STEP 2 – PREPARE WATER BATH + SOUS VIDE